Vital Office founder Peter Jordan speaks at Hong Kong City University
Hong Kong Conference aims to make Feng Shui More Scientific
Straubenhardt, January 2009. The Vital Office group, specialist for office optimization, presents their holistic concept of healthy office worlds on 20. February at the "4th internationally Conference on Scientific Feng Shui & Build Environment" at the City University of Hong Kong. Managing director Peter Jordan thereby shows in his lecture "Tuning for offices", how offices can be optimized with the help of Feng Shui philosophy.
Vital Office aims to bring more live qualities into the office space. The enterprise sets on a combination of ergonomic office planning and furniture design, modern building biology and Feng Shui as traditional way of enhancing spatial arrangement. Feng Shui is no longer belittled as Asian "hocus pocus philosophy", and is a part in modern architecture and space planning. Therefore the "Asian Institute of Intelligent Buildings" (AIIB) and "Department of Building & Construction" of the City University of Hong Kong now aim to make Feng Shui more scientific. Well known referees from all over the world contribute to "4th International Conference on Scientific Feng Shui & Build Environment". Also Vital Office founder Peter Jordan will speaks to the topic "Feng Shui Tuning For Offices".
Business success depends also on the spatial structure of an office
Vital Office focus on the positive psychological and ergonomic effects of Feng Shui while conceptually design office environments. The enterprise thereby however sets inspiration and creativity into the foreground: So for instance in an office planning which inspires to more (bodily and mental) movement, adequately to the Yin and Yang - symbol for constant dynamics and change. The organic-geometrical structures developed by Vital Office - from the individual desk to the entire office space - associate abundance and free formative space within a order defined by building and room. The intended consequences: Creative innovations and business success.
"I am proud, to present our Vital Office concept at the '4th International Conference on Scientific Feng Shui & Build Environment' beside other well known international scientists", says Peter Jordan. For the enterprise founder, who speaks regularly on conference as for instance "the Conscious Design Conference" in New York, the participation in the conference in Hong Kong is the provisional high point of his lectures. Jordan shows in his lecture, which advantages organically conceived office worlds will have for the inspiration of the coworkers, their creativity and vitality and in the long run for the competitive ability of the entire enterprise.
About Vital Office GmbH
Vital Office offers professional service ranging from consultation, architecture, building biology and Feng Shui to office planning and design. The enterprise develops holistic solutions, which offer companies more efficiency and humans more quality of life at the workplace. Managing director Peter Jordan was first in developing anthropometric rounded desk systems in Germany. He also designed the first authentic Feng Shui office system, which was awarded with the Gold medal for best Feng Shui Design by well known Feng Shui Masters. With the Vital-Office systems from office optimization up to potential development Vital-Office offers professional services, to initiate effectiveness in organizations, management and work-environment. The principle is to work with the people involved. Changes happen from inside and in the way of the organization. Beyond that Vital Office produces its own office furniture design selection, from exclusive desks and conference tables up to ergonomic desk systems according to Feng Shui criteria. Vital Office consists of various experts in each field and offers full size service out of one hand. Vital-Office completes the efforts of constructing a "high energy building"! Further information under www.vital-office.net . Information to the conference under 4th_ICSFSBE_Proceedings_2009/2009_Proceedings_Preliminaries.pdf.
Press release
High resolution images to download:
The 4th International Conference on Scientific Feng Shui & Built Environment in Hong Kong: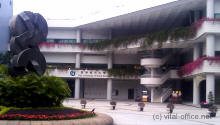 Campus of City University
Vital-Office-optimized workplace

Anthropometric desks from Vital-Office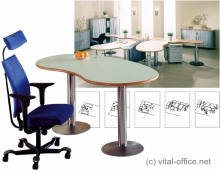 COPYRIGHT:
Please acknowledge that all material, text, images and media is copyright protected. Generally you are not allowed to use any material or portions of it without our written acknowledgement.
We grant a temporary allowance to use our material shown on this website for print press publications and your own presentations under the following conditions:
The Vital-Office Logo and the copyright statement © Vital-Office is easily seen and related to our material on ALL pages derived from our material.
The material is used to positively promote our services and product.
You send us a copy or link of the documents in which you used our material.
It is not allowed to publish our material on other internet pages without written acknowledgement.
(This is especially important, while Google and other search engines detect duplicate text and BOTH internet pages will rank less.)
We keep the right to withdraw this allowance at any time.
If you are not sure, please contact us by E-Mail: info@vital-office.net
Vital-Office GmbH, Peter Jordan
Phone.: +49 7248 935 6690
Fax: +49 7248 935 6697
E-Mail: info@vital-office.net