Circon Classic executive desk
Design-Classics in anthropometric Structure
Individualism in a system with classic, timeless lines and anthropometric structure. Representative elegance - a valuable and quality product of high quality and exceptional design in a timeless, classic and modern form.
For your best ideas and the right decisions You take responsibility for your decisions. Therefore you would like to work on a ergonomically and aesthetically appropriate desk. Representative elegance without being distancing is the character of this model. With its shape it follows up the history in design classics.
Anthropometric table tops are circular
Equipment can be reached in the same vision and grip distance by a slight rotation of the body. Adaptation processes of the eye can be minimized because documents and screens are visible by about the same distance.
A clear circle geometry
The circle is as the square a fundamental geometric shape. While the square symbolize the massive material (earth), the circle represents the mental spiritual center. Vital-Office table top shapes are not only simply rounded tables, but also follow a strict geometric principle which gives them their particular powerful charisma.
No matter which veneer you would like, we make your particular executive desk in the best quality respecting ecological and sustainable criteria. This product of the upper class can also be recognized by the molded feed painted in elegant black matte lacquer. By request we can also supply high-gloss finishes in all colors.
CIRCON classic is a master piece of Designers Harald Knauf.
Press release
High resolution images to download: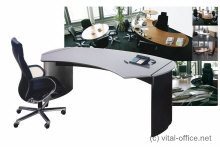 Design-Classics executive desk in anthropometric Structure
COPYRIGHT:
Please acknowledge that all material, text, images and media is copyright protected. Generally you are not allowed to use any material or portions of it without our written acknowledgement.
We grant a temporary allowance to use our material shown on this website for print press publications and your own presentations under the following conditions:
The Vital-Office Logo and the copyright statement © Vital-Office is easily seen and related to our material on ALL pages derived from our material.
The material is used to positively promote our services and product.
You send us a copy or link of the documents in which you used our material.
It is not allowed to publish our material on other internet pages without written acknowledgement.
(This is especially important, while Google and other search engines detect duplicate text and BOTH internet pages will rank less.)
We keep the right to withdraw this allowance at any time.
If you are not sure, please contact us by E-Mail: info@vital-office.net
Vital-Office GmbH, Peter Jordan
Phone.: +49 7248 935 6690
Fax: +49 7248 935 6697
E-Mail: info@vital-office.net