Circon Jet executive desk
Modern "Team And Work" work-station for executives
Modern "Team And Work" work-station for individual distinctiveness. Energetic combination of materials for the work surface with the slightly slanted aluminum rear panel and the elliptical molded column, supports the expression of motivation, lightness and stability.
Circon jet design is inspired by a jet plane's wing.
Hidden cabling: Within the slightly slanted rear panel is space for cabling and plug boxes
Tops in exclusive wood veneer like Swiss pear combined with matte lacquered black and aluminum silver and glass. The slightly slanted rear panel and elliptical molded base in polished chrome or sanded stainless steel.
Press release
High resolution images to download: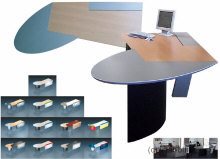 Modern "Team And Work" work-station for executives
COPYRIGHT:
Please acknowledge that all material, text, images and media is copyright protected. Generally you are not allowed to use any material or portions of it without our written acknowledgement.
We grant a temporary allowance to use our material shown on this website for print press publications and your own presentations under the following conditions:
The Vital-Office Logo and the copyright statement © Vital-Office is easily seen and related to our material on ALL pages derived from our material.
The material is used to positively promote our services and product.
You send us a copy or link of the documents in which you used our material.
It is not allowed to publish our material on other internet pages without written acknowledgement.
(This is especially important, while Google and other search engines detect duplicate text and BOTH internet pages will rank less.)
We keep the right to withdraw this allowance at any time.
If you are not sure, please contact us by E-Mail: info@vital-office.net
Vital-Office GmbH, Peter Jordan
Phone.: +49 7248 935 6690
Fax: +49 7248 935 6697
E-Mail: info@vital-office.net