Circon Face executive desk
Dynamic for executives
Nowadays the preference is for clearly defined surfaces and curves. Straight lines and large semicircles which intersect in space plus exciting ellipses. Exactly like this current trend is the design of "face" the executive desk system by vital-office.
Minimalistic, cool and sensually appealing – these are the attributes of this bold furniture design. Crisp flowing surfaces lead the eye and open up a room's space. Combinations in noble veneers and matt deluxe lacquers portray the executive's exclusive high class atmosphere.
Face is technically and functionally crafted to perfection. In combination with its attached gas-spring or motor driven "stand-up" unit, face additionally offers healthy ergonomic features for executives to maintain their vitality. Needless to say, cabling for computers is perfectly stored in the board and easily accessible through service doors.
With its clear cut design and its fine tuned functionality, face is the basic desk-system for creative, successful and healthy working. A clear decision for style.
The unique design of circon face base table is perfect for a noble conference table. Two base tables are joined and if more length needed atop is added in the middle.
Press release
High resolution images to download: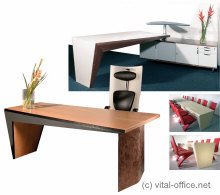 Modern "Team And Work" work-station for executives
COPYRIGHT:
Please acknowledge that all material, text, images and media is copyright protected. Generally you are not allowed to use any material or portions of it without our written acknowledgement.
We grant a temporary allowance to use our material shown on this website for print press publications and your own presentations under the following conditions:
The Vital-Office Logo and the copyright statement © Vital-Office is easily seen and related to our material on ALL pages derived from our material.
The material is used to positively promote our services and product.
You send us a copy or link of the documents in which you used our material.
It is not allowed to publish our material on other internet pages without written acknowledgement.
(This is especially important, while Google and other search engines detect duplicate text and BOTH internet pages will rank less.)
We keep the right to withdraw this allowance at any time.
If you are not sure, please contact us by E-Mail: info@vital-office.net
Vital-Office GmbH, Peter Jordan
Phone.: +49 7248 935 6690
Fax: +49 7248 935 6697
E-Mail: info@vital-office.net